The Healthier Snacking Show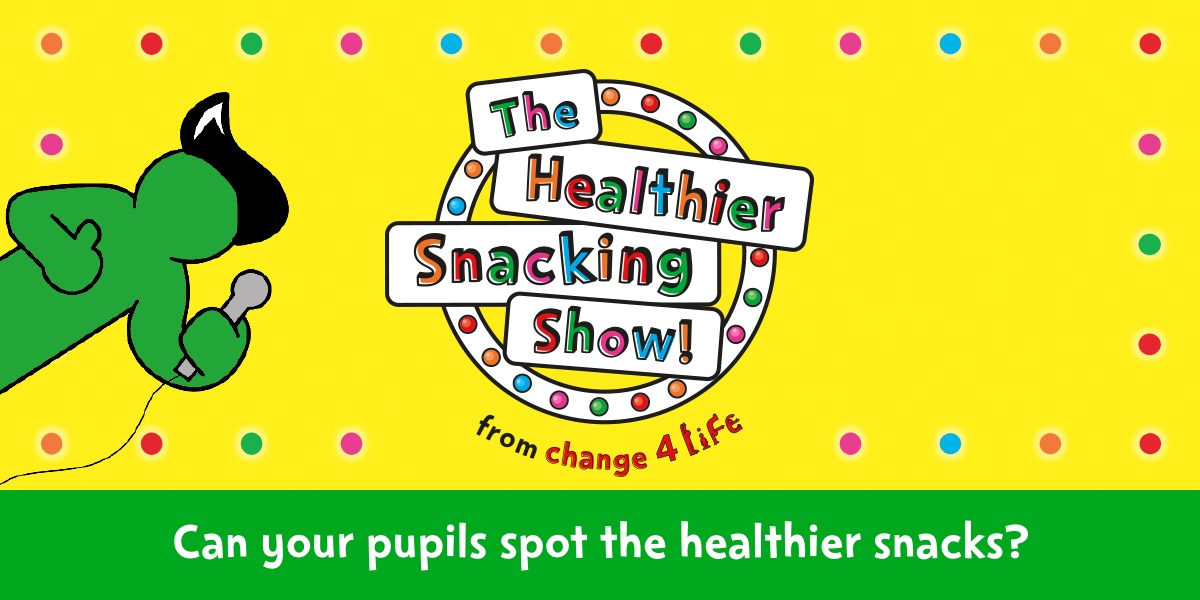 Did you know that children are eating three times more sugar than they should, with 50% of this sugar coming from unhealthy snacks and sugary drinks?

That's why Change4Life is helping families choose healthier snacks. We've created a set of digital, curriculum-linked resources for schools to help pupils learn about choosing healthier snacks, as well as a take-home leaflet to get the message home too.

Explore our new range of activities, from our first ever school council toolkit to our new game show-style PowerPoint titled 'The Healthier Snacking Show', complete with sound effects. The game show is designed to be used as a pupil-led assembly or performance and the resources are tailored for Reception, Key Stage 1 and upper and lower Key Stage 2.
"This is really engaging and relevant content, particularly the game show resource. Children will love the competitive nature of this! All activities involve getting the pupils talking, rather than just the teacher talking - something schools strive for in all lessons."
Rachel Armstrong, Teacher at Isleworth Town Primary School
Send home the Family Snack Challenge

This January, if your school is part of the School Fruit and Veg scheme, you will receive a box of Family Snack Challenge leaflets for pupils to take home and share with their families.

Remind pupils to put the leaflets in their book bags, stick the challenge on the fridge and try the 7-day challenge at home.
School Zone


Change4Life have developed a website for Primary school teachers called the School Zone, which provides curriculum-linked materials and inspiration to help you teach children about healthy eating and being active. The School Zone features exciting lesson ideas, homework tasks and whole school activities for you to use with KS1 and KS2 pupils.
Change4Life updates

Our Healthy Year resources

The new Change4Life Our Healthy Year resources and whole-school ideas aim to help your Reception and Year 6 pupils build healthy habits during the school years in which they are weighed and measured as part of the National Child Measurement Programme.
Visit the School Zone to access the free resources listed below and more.
Our Healthy Year toolkit
Classroom activity sheets
Presentations
Ideas for teachers
Take-home activities
Celebration certificate
Our classroom charter poster.
Campaign news

In January, Change4Life will launch a new pack of resources to help teach pupils aged 5 to 11 about healthy eating. It will include lesson plans based around numeracy and literacy, video-based activities, and resources for pupils to run their own healthy eating campaign in school. All Primary schools will receive a printed pack including stickers, posters and parent packs with the School Fruit and Veg Scheme delivery in January.
Subscribe to Change4Life

Subscribe to the Change4Life School Zone newsletter and get access to the current resources and campaign news.
Change4Life Champion

Nominate one of your staff members to sign up to the Kent Change4Life initiative, to receive access to lots of free resources from Kent County Council. Please ask your nominee to complete the online form to join the movement.
Contact Details

Change4Life Team
Email: partnerships@phe.gov.uk