Reconnect Summer 2021 Opportunities
13 July 2021
Information for sharing with parents, accessing Reconnect discount voucher for pupils entitled to FSM, Leisure Centre and Bus Pass offers, and more.

Information for Parents
We have created a single document (PDF, 565.2 KB) to give parents and pupils information about what is available through Reconnect this summer (2021), and how it is accessed. Most information is on our website, with links from this summary document to that. Please send this out to parents, and if you feel appropriate, to pupils.
Accessing Reconnect Discount Voucher for Pupils Entitled to FSM
Following on from our update last week, we can now confirm the process for accessing the electronic Reconnect discount voucher for pupils entitled to benefits related FSM. There are two vouchers - the first enables the holder to buy a 6-week leisure pass for £10; the second can be used to evidence eligibility to take up a free place at a Holiday Activities and Food club. Please see instructions on how to launch the two vouchers (PDF, 613.9 KB) through Wonde. The image below shows what the pass will look like: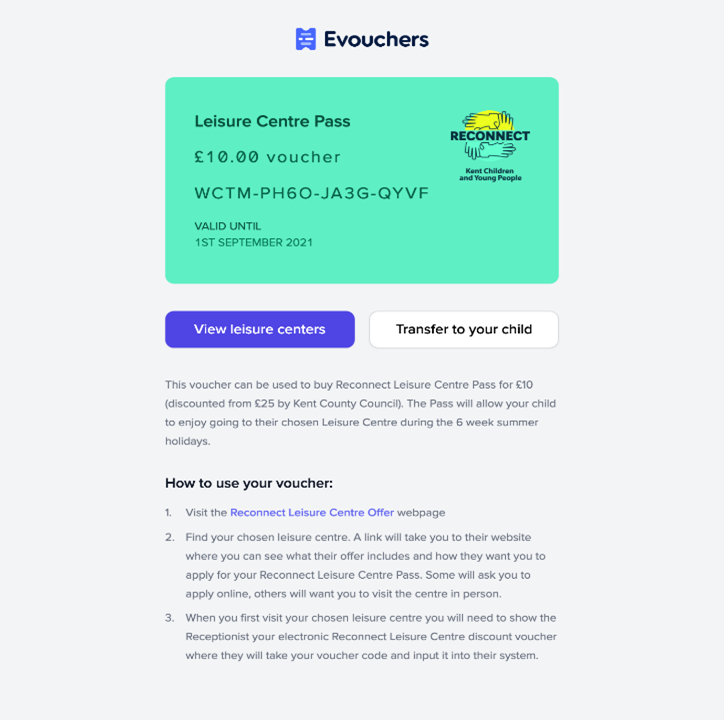 Leisure Centre Offer
Following on from our update last week, we are now able to confirm that the following leisure centres will be offering the Reconnect summer membership. If any further centres agree to participate we will update our website:
Ashford - Stour Centre and the Julie Rose Stadium (use of gym only for 12 years and over)
Canterbury - Kingsmead Leisure Centre
Deal - Tides Leisure Centre
Herne Bay - Herons Leisure Centre and Bay Sports Arena
Larkfield Leisure Centre
Maidstone Leisure Centre
Margate - Hartsdown Leisure Centre
Meopham Fitness and Tennis Centre
New Romney - Marsh Academy Leisure Centre
Ramsgate Leisure Centre
Sandwich Leisure Centre
Sheerness - Sheppey Leisure Complex
Sittingbourne - Swallows Leisure Centre
Tenterden Leisure Centre
Tunbridge Wells Sports Centre
Whitstable Pools and Fitness Centre
Bus Pass Offer
Deliveries of free summer bus passes for pupils in Years 6 to 13 have started today. All schools will receive the passes they need this week for distribution to pupils. Spares will be held in open libraries and children's centres should any pupil lose theirs. Information for parents and pupils about the use of the pass is available on the Reconnect website.
Family Bus Pass Offer
If travel is a barrier to participation, we have also secured a family bus offer available. These tickets will enable a parent and three children, or two children and two adults to travel for free. These will be distributed to front line services to enable practitioners and providers to give these to families they are working with who would benefit from this offer. If you have any families who may benefit from this offer, for example to enable their child to participate in a HAF opportunity, please contact us through reconnect.kentcyp@kent.gov.uk.
HAF
Please ensure that you are talking to your eligible families about the Kent Holiday, Activities and Food programme. For a full list of providers please visit the HAF webpage.
Summer Checklist
As we are nearing the end of term, please take a look at the checklist below to ensure your students can access the Reconnect summer opportunities available.
Distributed the free bus passes to children and young people from years 6 to 13. These are being distributed to you this week
Requested the Reconnect discount card and HAF voucher
Shared the parent/carer leaflet (accessible through the schools webpage)
Signed up for and given your students access to the Lyfta platform
Checked out all of the summer learning opportunities that can be used as plug-ins for your summer school offer
Promoted HAF offer to eligible families
Issued your FSM vouchers.
For further information about Reconnect summer activities and opportunities you can promote to your students, please visit the schools webpage
As always, if you have any queries, please don't hesitate to contact the Reconnect team on reconnect.kentcyp@kent.gov.uk.
David Adams
Reconnect Programme Director