Who is top of the class at your school?
6 February 2019
Time is running out for schools to showcase their stellar teaching and support staff by nominating them for a Kent Teacher of the Year Award.
Say a big thank you to anyone contributing to the success of a Primary or Secondary school or college across the county - nominate them for a Kent Teacher of the Year Award. But don't delay, as the deadline for submissions is noon on Friday 1 March.
Three R's - Kent TOTY from Inspire Schools on Vimeo.
One of the contest judges, Alison Nightingale of Three R's Teacher Recruitment, said: "Teachers, support staff and volunteers face so many challenges on a day-to-day basis in our schools, and we feel it's very important that awards like these exist to recognise those challenges and all the efforts those people make. They really do deserve to be winners."
Award nominations are being sought for Primary, Secondary, Newly-Qualified and Further Education teachers. Anyone associated with a school - including staff, parents, and students - can make a nomination until 1 March.
Organised by the KM Charity Team, the awards also recognise non-teaching members of staff such as midday supervisors, caretakers or office staff, along with volunteers and teams.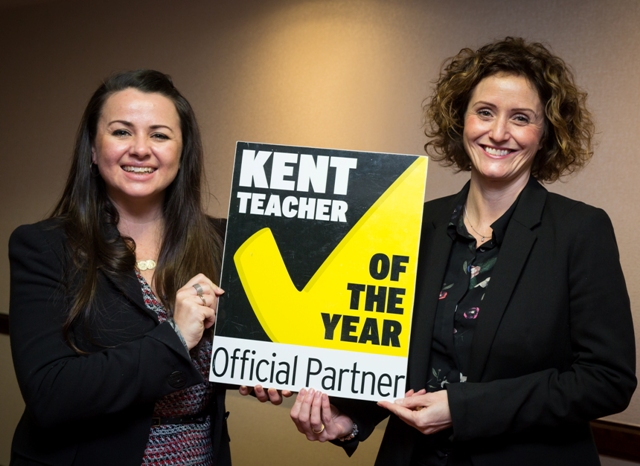 Karen Brinkman, who is coordinating the event, said: "A successful school is the result of so many factors. Inspirational teachers can help pupils to flourish thanks to the backing of strong leadership and a supportive environment - and there are many individuals who contribute to that."
She added: "Don't forget you are not limited to one nomination. If you feel several people or indeed a whole team of individuals are worthy of recognition then why not nominate them all? It's an easy way to show your appreciation for everything they do."
A panel of judges will select winners for each local authority area as well as overall county champions. The results will be announced at an awards dinner staged at the Ashford International Hotel in May.
To nominate, visit the Kent Teacher of the Year website
Follow stories about Kent Teacher of the Year on Twitter @InspireSchools1 and use the hashtag #KTOTY.
Download the support pack enabling your school to promote the awards to parents and pupils.
Contact Details
Karen Brinkman
Telephone: 08442 640291
Email: kbrinkman@thekmgroup.co.uk