University seeks life-shaping literacy projects
3 April 2019
The University of Kent has thrown its weight behind the Kent Literacy Awards to find initiatives promoting reading, writing, speaking and listening skills.
In a bid to encourage nominations for the awards, University of Kent lecturer Tom Lawrence has highlighted the all-round impact of literacy on children's educational and life outcomes.
Literacy Awards Launch (2019) from Inspire Schools on Vimeo.
He said: "We know that literacy is so important for young people in terms of their academic attainment, in terms of their employability, their wellbeing and also their quality of life. And as someone who is also a lecturer in English at the University of Kent, I can say how powerful reading and writing have been for my career."
The awards are open to Primary and Secondary schools and the 18 categories include best home reading initiative, most successful programme for engaging pupils with English as second language and most engaging book week theme. There will also be prizes for literacy initiatives using IT, drama, the arts and cross-curricular opportunities.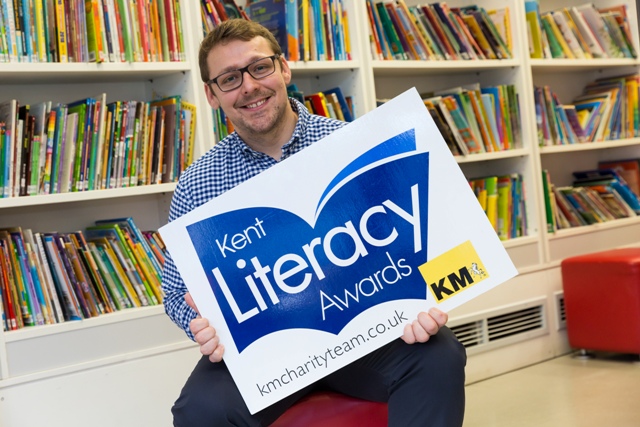 Awards coordinator Karen Brinkman, of the KM Charity Team, said: "I couldn't agree more with Tom. It is so important that we celebrate and share initiatives that succeed in raising pupils' literacy attainment levels. I urge all schools to tell us about the wonderful work you do that is helping young people to get the best possible start in life."
In addition to the University of Kent, the awards' judging panel includes Coram Beanstalk, the Crown Foundation, Golding Vision, Tribeca, Reed Education, The Education People, KM Facilities Management and McCabe Ford Williams.
Representatives from winning schools will be invited to an awards ceremony at the Hempstead House Hotel in Sittingbourne in July.
Nominations can be made by teachers, support staff and management. They must be submitted by noon on Wednesday 1 May at the Kent Literacy Awards website. For multiple initiatives, please submit each as a separate nomination.
School literacy leaders can promote the awards by using the toolkit
Contact Details
Karen Brinkman
Telephone: 08442 640291
Email: kbrinkman@thekmgroup.co.uk