Seeking the stars of Kent schools
9 January 2019
Kent Teacher of the Year Awards 2019 open to nominations to recognise and share best practice.
Schools are invited to showcase their top teams, teachers, staff and volunteers by putting them forward for a Kent Teacher of the Year Award.
Kent Teacher of the Year News Launch 2019 from Inspire Schools on Vimeo.
The awards event is now open to nominations and these can be made by anyone passionate about their school including staff, parents and pupils.
Nominations can be made for individuals or teams of staff no matter their role - from teachers to support staff, volunteers to senior management - as there is a category appropriate for anyone making a difference in his or her school or college.
A panel of judges will select winners for each local authority and the results will be announced at a prestigious awards dinner at the Mercure Maidstone Great Danes Hotel in May. There are top prizes on offer in addition to a limited edition trophy for each overall champion deemed the county's
best.
Following the awards ceremony a booklet featuring details of the winners will be distributed to schools across the south east to share best practice.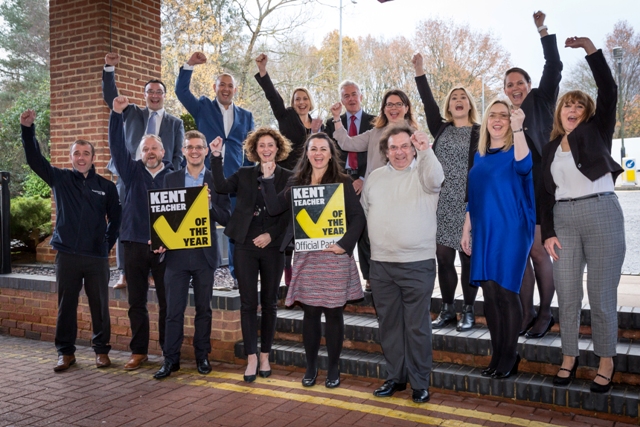 Simon Dolby, chief executive of the KM Charity Team, which stages the annual awards, said: "The Kent Teacher of the Year Awards celebrates the vital contribution that teaching and support staff make to our community every day.
"We look forward to honouring these exceptional individuals, and their schools and colleges, which are enabling young people to flourish."
He added: "The awards are a wonderful way to say thank you and to share best practice far and wide, so I would urge everyone to consider nominating at least one colleague."
Categories include Primary, Secondary, Further Education, and Newly Qualified Teachers.
For more information, or to nominate, visit the Kent Teacher of the Year website before the March 1 deadline.
Follow stories about Kent Teacher of the Year on Twitter @KMCharityTeam and use the hashtag #KTOTY.
To download the support pack enabling your school to promote the awards to parents and pupils.
Contact Details
Karen Brinkman
Telephone: 08442 640291
Email: kbrinkman@thekmgroup.co.uk