Kent Teacher of the Year Awards are now open
4 January 2018
Schools are invited to showcase their top teams, teachers, staff and volunteers by putting them forward for an award.
The Kent Teacher of the Year Awards 2018 are now open for nominations - and these can be made by anyone passionate about their school including staff, parents, and pupils.
Each year the event is run by the KM Charity Team to celebrate the best and brightest individuals and teams whose enthusiasm and drive help to make their schools a success.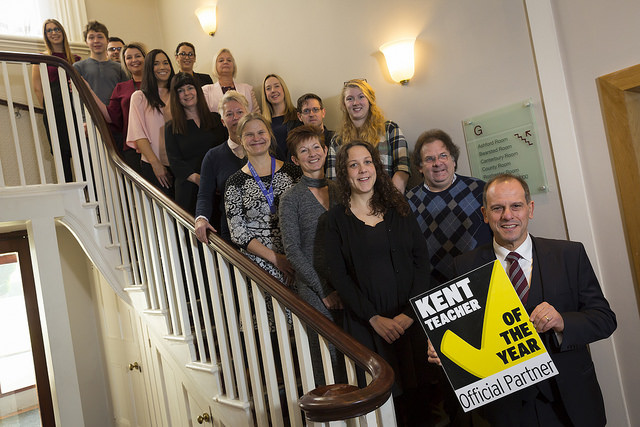 Simon Dolby, chief executive of the KM Charity Team, explained: "We started these awards to mark the vital contribution that teaching staff make to our community, and to recognise the expertise and dedication that is the hallmark of an outstanding teacher.
"A good teacher can change someone's life. Many of us remember with great fondness a teacher who instilled a love of a subject in us - maybe shaping what we went on to study at university or do for a career. It's a long time since I was at school but I still have great memories of my favourite teachers at Kent College: Mr Sweet, Mr Carter and Mr Shire, who taught me geography, biology and chemistry."
He added: "Yet teachers remain underpaid, overworked and undervalued - so we hope we can do our bit to give a confidence boost to nominees and winners and remind them that people do appreciate them."
The judges will choose district winners and overall
champions for categories including:
Primary teacher
Secondary teacher
Newly Qualified Teacher
Non-teaching staff such as:

Dinner supervisors
Caretakers

Volunteers including:

Reading volunteers
PTA members
Governors
Parent helpers.
The deadline for nominations is March 1, and the winners will be revealed at an awards dinner in May at the Mercure Great Danes Hotel in Maidstone.
Kent Teacher of the Year launch 2018 from KM Charity Team on Vimeo.
A launch event was staged at the Mercure and attended by members of the judging panel including representatives from Kent County Council, the University of Kent, Kent Sport, Canterbury Christ Church University, the University of Greenwich, Three R's Teacher Recruitment, Medway Youth Trust, Social Enterprise Kent, Beanstalk, the Mercure Great Danes Hotel, CXK, Salus, LoopCR, Kreston Reeves, and Diggerland.
Catriona Jamieson, area director at Medway Youth Trust, said: "We work really closely with schools across Kent and Medway, and we see firsthand the amount of pure passion, dedication and hard work they put in to secure the best education for young people."
Leah Macdonald, primary education consultant at Three R's Teacher Recruitment in Ashford, added: "Every year the entries get harder to judge."
For more information or to make a nomination, visit the Kent Teacher of the Year website. Follow stories about Kent Teacher of the Year on Twitter @KMCharityTeam and #KMTOTY.
Contact Details
Karen Brinkman
Telephone: 08442 640291
Email: kbrinkman@thekmgroup.co.uk